I wrote this over four years ago when someone thought to insult me by calling me a "bleeding heart" a badge I wear proudly.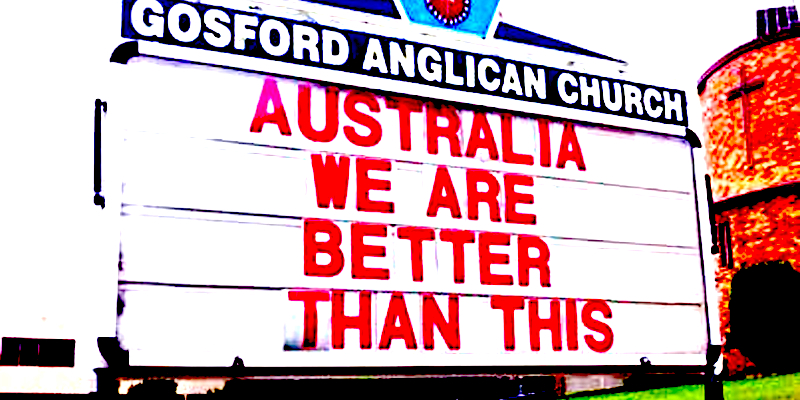 10th March 2014
In October 2013 I had the wonderful experience of attending the Ubud Writers and Readers Festival (UWRF) in Bali. I had been once before but this time I got a full ticket and went to as many of the forums, talks, debates, book and poetry readings as I could.
At the end of the four days I was an exhausted but relatively happy person. I had listened to so many interesting, clever, thoughtful and funny people from all over the world. I was alive and invigorated and my brain was ticking over incessantly. It was a great feeling, so why do I use the word 'relatively' happy?
I left with a pain I could not quite put my finger on, and then realised that during the festival my heart started bleeding and I couldn't get it to stop.
Australia's treatment of asylum seekers
My country's treatment of asylum seekers who come to us seeking refuge was abhorrent to me. It was just a month after the federal election in Australia that put the Abbott Government into power. Much of the campaign from both major parties was smear denigrating and demonising asylum seekers and refugees.
The constant message was they are dangerous to Australia and must be kept out of the country at all costs. Hence the beginning of the PNG solution and the promise that no asylum seeker who came to Australia by boat would ever be resettled in Australia.
We have previous Prime Minister Rudd to thank for that, but his zeal has been outdone over the last six months by Tony Abbott and Immigration Minister Scott Morrison. In October I was angry and worried but I had no idea then just how cruel and unjust Australia would become.
At a forum Through Darkness to Light at the URWF, I heard the horrific stories of two asylum seekers who were welcomed and supported by our country. One was Kooshyar Karimi from Iran and Carina Hoang from Vietnam. Like many, many other refugees they have not only made Australia home but have given so much back to the nation. When I heard their stories and felt their pain, the bleeding started.
As the situation for asylum seekers coming to Australia by boat became more cruel and heartless I knew I had to do something.
The environment
At the festival I also attended a number of forums that highlighted environmental issues as they related to South-East Asia. It was uplifting yet daunting to hear first hand of grass-root movements in communities all over Indonesia who were seeking ways to stop the degradation of their land, to keep their homes and livelihoods intact and to prevent the destruction of endangered species like the Orang-utan.
I came back to Australia to a Prime Minister who thinks we have too many National Parks, that loggers are the ultimate conservationists and who is trying to de-list a significant number acres of World Heritage listed forests in Tasmania. Despite the science, he is a climate change sceptic and his raison d'être is to "Axe the Tax".
The Trans Pacific Partnership
This will be a very short section because the government has been so secretive about this agreement and how it will potentially hurt a lot of Australians. It is very rarely mentioned in mainstream media and most people are just not aware that it's happening and happening soon.
You can read a draft of the agreement provided  by by WikiLeaks.  My main concerns are the capacity for large multinational companies to override our government's decisions, the extension of pharmaceutical patents which will mean greater costs for the government and consumers and  the significant implications for anyone who downloads from the internet.
March in March
One day in December I was trawling, not trolling, around Twitter and I saw a mention of March in March 2014 and I began to spread the word all over Twitter and Facebook, much to the chagrin of many of my Facebook friends. I soon realised that it was just a thought bubble then and it would be another month before a small group of committed people began to work together to make the March in March a reality.
Currently over 36,000 people have responded and will be marching in around 30 locations across Australia. The March in March is "a peaceful, non-partisan citizens' march and rally at Federal Parliament to protest against the current government's policy decisions that are against the common good of our nation". I salute the March in March group for the amazing work that they are doing.
When it comes to the crunch, the fact that I'll be marching in Brisbane and Canberra is not about me. Legally or illegally I very rarely download from the internet (unless it's a meme of Tony Abbott but even then it has to be really clever and funny); I'm very healthy and don't have to take any drugs to stay that way; I'm retired and comfortable financially; I own my home; I have a stable family life and my adult children are happy and independent.
I'm from a generation that got a free tertiary education and this has stood me in good stead all of my life. I've also been incredibly lucky throughout my life. Now is the time for me to give back to my community and try to help others who are not so fortunate. Also, in Canberra I just might get to meet Fr Rod Bower of the Gosford Anglican Church who is a strong supporter of more humane policies for people seeking asylum in Australia.
Given the decisions that Tony Abbott's government is making on Medicare, the NDIS and Disability Support Payments, Gonski, the attacks on workers' rights and the huge financial concessions being given to some industries, it is clear that unless we do something soon there will be fewer people like me who will be happy, stable and independent in their lives.
Sally McManus has done a great job of tracking Abbotts wreckage so you can check for yourself all that 'Wrecking Ball Tony' has accomplished in six months https://goo.gl/hTxzsF
If you also want to stand up and tell this government "not in my name"  find an event near you and march in March 2014
P.S. I did get to meet @FrRodBower at the Canberra march. What a wonderful person he is. I wish him well in his quest to become a Senator in our Federal Parliament #Ausvotes2019